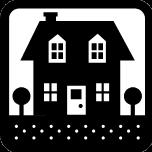 My Property is Worth More Because…
This is the most important question sellers should ask themselves because it will determine what the market selling price of your house or property. For a large part, it's difficult for sellers to be objective, so what information should be used?
Richard and DelAnn Lozzi, owners of Prescott Mtn. & Land Realty, an Arizona Brokerage, recommend the following:
What kind of view and location do you have that is superior to others that have sold in your neighborhood within the last 6 months?
What is your curb appearance?
Are your kitchen(s) and bathrooms remodeled? Do you have deferred maintenance?
Are the size and number of bedrooms and baths similar to the other sold properties?
How long should it take to get an offer?
How is your property or house being exposed to the buyers?
What price should the property or house be listed, and what is the expectation of a sale price?
Nice views and location elevate the property value. Adjust your price accordingly.
Curb presence is vital for advertising and for first impressions.
Updated kitchens and baths add to the value of your house and will help it sell quicker.
Fix the houses' deferred maintenance.
Square footage is important, but if you're competing against a house that has 3 bedrooms and 3 baths and yours has 2 bedrooms and 3 baths with more square footage, it could be detrimental if your area caters to homes with larger families.
Usually you should get an offer within the first 30 days. If you don't get an offer within that time frame, your house is overpriced. Reevaluate your pricing strategy to be in line with the past sales. The longer you wait, the more buyers will overlook your house because they think something is wrong with it. You'll end up either lowering the price or taking it off the market if you wait too long.
Advertising and exposure to buyers is essential to a successful sale, so take that into consideration when you're negotiating for commission with your listing brokerage. Have the brokerages' representative (Realtor®) show you their marketing plan. Good exposure costs money.
Price your house to sell. Be reasonable. The odds of you selling your house for more than 10 % above the similar home within the last 6 months are slim unless your inventory is low.
Richard and DelAnn Lozzi of Prescott Mtn. & Land Realty will sell your Arizona property or house for the highest market price in the shortest amount of time. Call them at 928 525 4356 or email at: [email protected]